CranioSacral Therapy is a profound form of healing, that is gentle, hands on and works with balancing the central nervous system. Most people find CST deeply relaxing and effective at reducing stress, enhancing overall health and alleviating a range of medical conditions associated with pain and dysfunction. During a CranioSacral Therapy session your therapist will lightly touch and work with different areas of your body including the face, head, spine and pelvis. The clothes are left on throughout the process and the body is supported in a comfortable position with the aid of blankets and cushions on a raised table.
Costs:
75 minute session: Clarkville $90, Waimangaroa $80 
*If finances are an issue please contact Melissa for a reduced rate.
Includes talk time at the beginning and end of the healing session.
Bookings:
To book please email Melissa at: yoga@manaiawellbeing.co.nz
When you book in a health intake form will be emailed to you. Please fill this in and return before your appointment. 
I completed CranioSacral Therapy I + II in Christchurch, through the Upledger Institute International, during 2009 and 2010, followed by SomatoEmotional Release I + II during 2018. I have been a teaching assistant for CST I in 2019 and 2020, and during February of 2020 I completed the Applications of SomatoEmotional Release Course in Christchurch. As of September 2021, I am proud to be a Certified CranioSacral Therapist! 2023 presents the opportunity to teacher assist CST II in Christchurch. I am grateful.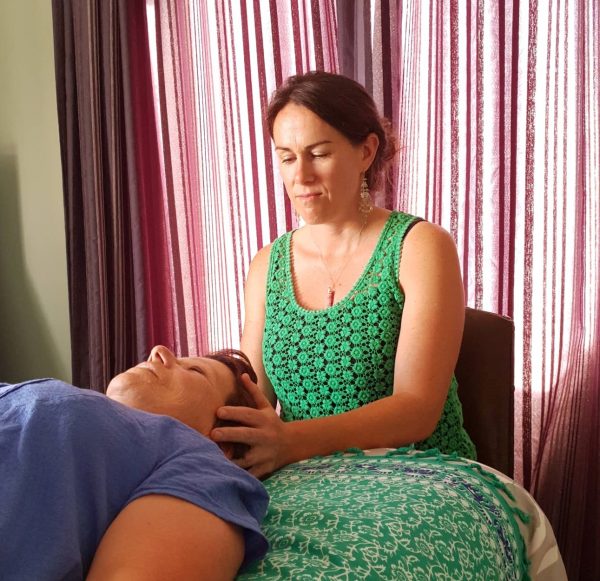 Further information on CST from the Upledger Institute's brochure, as it explains it so well!
Why is CranioSacral Therapy so important?
CST is a light touch approach that can create dramatic improvements in your life. It releases tensions deep in the body to relieve pain and dysfunction, and improve whole-body health and performance.
Few body structures have more influence over your health and well-being than your central nervous system. And few body systems have more impact on your central nervous system than the craniosacral system – the soft tissues and fluid that protect your brain and spinal cord.
You endure stresses and strains, and your body absorbs them. But your body can only handle so much tension before the tissues begin to tighten, and potentially affect the brain and spinal cord. Unfortunately, this can compromise the function of the central nervous system and nearly every other system in your body.
CST release those tensions to allow the entire body to relax and self-correct. Using gentle touch, starting with about the weight of a 10 cent piece, practitioners evaluate for strain patterns. Then they use distinctive light-touch techniques to release any restrictions they find.
By freeing the central nervous system to perform at its best, CST has been shown to naturally reduce pain and stress, strengthen your resistance to disease, and enhance your health and well-being.
And because it's so gentle, CST has been shown to be effective for all ages, from newborns to elders.
What conditions can CST help with?
It has been shown to help a full spectrum of pain and dysfunction, including:
migraines and headaches
chronic neck and back pain
stress and tension-related disorders
motor-coordination impairments
infant and childhood disorders
spinal cord injuries
post-concussion symptoms
chronic fatigue
scoliosis
central nervous system disorders
learning disabilities
ADD/ADHD
Post-Traumatic Stress Disorder
orthopedic problems
and many other conditions.
 For more information on CranioSacral Therapy you can visit the Upledger Institute's website.