This is an opportunity for you to retreat from your everyday life and enter a tranquil and nurturing space where you will be supported to connect deeply with your body, mind and soul, and nourish yourself on all levels.
4.30pm, October 11th – 2pm, October 13th
People are welcome to arrive from 4.30pm and settle in. Dinner will be at 6pm, with a relaxing iRest® Yoga Nidra meditation to support us in dropping in to Retreat mode from 7.15pm. If you are unable to finish work early, it is fine to arrive later and join us for dinner at 6pm. If you are unable to make dinner at 6pm it's important that you are present for the first class at 7.15pm.
The Retreat will include 10 hours of teaching. Classes will involve a mix of active and restorative Yoga. The restorative Yoga encourages us to enter deep states of rest which allows the parasympathetic nervous system to be restored so that we feel more peaceful and balanced. A restored nervous system also encourages all the body systems to work more efficiently creating a healthier, happier you. The classes offered over the weekend will also include iRest® Yoga Nidra meditation, gentle warming movements, chanting, talks and breathing practices. There will be time for quiet, reflection, journaling and connecting with others. There is also the option to swim in the heated pool ($2 for the weekend) and to enjoy some beautiful walks in nature.
Retreat,    Move,    Meditate,    Rest,    Reflect,    Rejuvenate
Living Springs Venue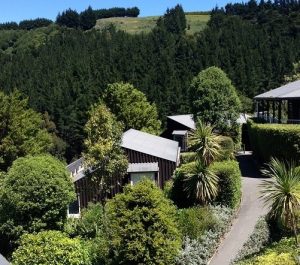 We will be using the Bellbird Heights part of Living Springs. A beautiful space up above the main camp. As you can see from the photos, buildings are nestled into the native bush. It really is a stunning place, with a number of steps to get to your accommodation and the teaching space. Keep that in mind when packing! With access to the heated swimming pool at the main camp, and bush walks this really is a perfect spot to retreat and rejuvenate.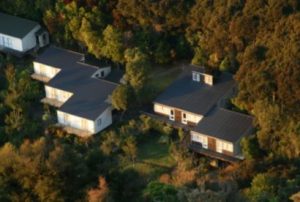 Living Springs
218 Bamfords Road
Allandale, RDI
Lyttelton 8971 
For more information on Living Springs please click here: https://livingsprings.co.nz 
Bellbird Heights Accommodation
The Bunkroom accommodation includes 2 sets of bunks in each bunkroom, with shared showers, basins and toilets. My aim is to have 2 people in each bunkroom, but if you are coming with friends and would like to have 3 or 4 in the same room this is an option also.
The Studio accommodation is limited with only 2 studios. A studio contains a double bed, sofa, kitchenette and bathroom. This could be allocated as a single room or for a couple.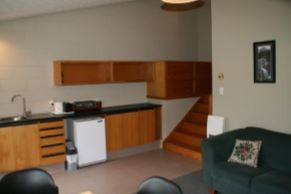 The Apartment accommodation is also limited with only 2 apartments. An apartment contains a bathroom, kitchenette, sofa, table and chairs, 2 single beds in a separate room, and a double bed in the living area. The apartment will need to accommodate 3 people so another option for a group of friends.
"And I said to my body, softly, "I want to be your friend."
It took a deep breath and replied, "I have been waiting my whole life for this."
Nayyirah Waheed
Meals
The accommodation costs below include 3 meals per day. For special dietary requirements there is an extra charge of $12/night. The food is of a basic but wholesome nature. More information to follow after meeting with onsite chef. 
Costs
Bunkroom Accommodation + 3 meals/day:      $181 + $150 (tuition) = $331
Studio or Apartment Accommodation + 3 meals/day:      $213 + $150 (tuition) = $363
* There is the option to pay an extra $20 to have bedding supplied. This will include a pillow, pillowcase, bottom sheet, duvet, blanket, towel and flannel. 
Additional Info
To support the Retreat environment, there are to be no cell phones present in the teaching space, or to be used during meal times. You can keep your phone safely in your room, and if it feels right, I encourage you to only check it once a day or not at all over the weekend! 
We will also move into silence from 10pm until the first class at 9.30am the next morning. Being in silence encourages us into Retreat mode, creates a quiet space for all, and the opportunity to connect with ourselves.
I've included some photos below to give those of you who are unsure an idea of what Restorative Yoga is about. With restorative poses the body is completely supported with blankets and bolsters, in comfortable positions, and the poses are held for 10 – 15 minutes. These poses are wonderful for restoring the body to it's natural and calm state of being, and for building energy. A deeply nourishing practice all about YOU.